Fortress Leningrad
These pages will be devoted to some defensive structures of the city of St. Petersburg (aka Leningrad), referring mainly to the times of World War II.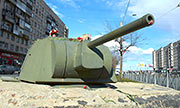 There is KV-2 (Kliment Voroshilov) tank turret bunker of ADOT-1 type situated at Prospect Slavy in Saint-Petersburg. Here is a digging and research history of the bunker.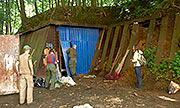 The bunker of the flagship command post of the Red Banner Baltic Fleet, built in 1942 as part of a huge complex of fleet headquarters facilities on the territory of the evacuated electro-technical institute (now LETI). Pictures of 2016 and 2017.