Fortress Leningrad
These pages will be devoted to some defensive structures of the city of St. Petersburg (aka Leningrad), referring mainly to the times of World War II.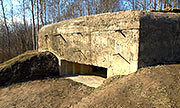 The machine-gun bunker or pillbox No. 204 was built in the autumn of 1943 at Izhora defence line in Leningrad city . Since 2013 the bunker houses the museum of the defensive line 'Izhora'. This is the first museum of its kind in St. Petersburg.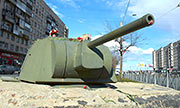 There is KV-2 (Kliment Voroshilov) tank turret bunker of ADOT-1 type situated at Prospect Slavy in Saint-Petersburg. Here is a digging and research history of the bunker.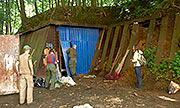 The bunker of the flagship command post of the Red Banner Baltic Fleet, built in 1942 as part of a huge complex of fleet headquarters facilities on the territory of the evacuated electro-technical institute (now LETI). Pictures of 2016 and 2017.