Plan of fortress
1. Gosudareva tower
2. Knjazhja (Menshikova) tower
3. Svetlichnaya tower
4. Korolevskaya tower
5. Melnichnaya tower
6. Kolokolnaya tower
7. Flaznaya tower
8. Golovkina tower
9. Golovina tower
10. Ruins of soldier's barracks (military jail or bulk #1)
11. Old jail (Corps #2)
12. New jail ("Norodovolcheskaya" or bulk #3)
13. Ruins of Ioannovskaja Church and WWII memorial
14. Remains of fortifications of of Novgorod's period (XIV century)
15. Ruins of jail supervisor's block
16. Ruins of building of jail office, workshops and criminal jail (bulk #4)
17. Grave of russian soldiers missed in action in 1702
18. "Narodnaya Volja" society's members monument
19. Water channel and water gate
20. Bastions of 1720-30 th
21. Pier
22. Neva river.
Model of the fortress Shlisselburg of 1710-th.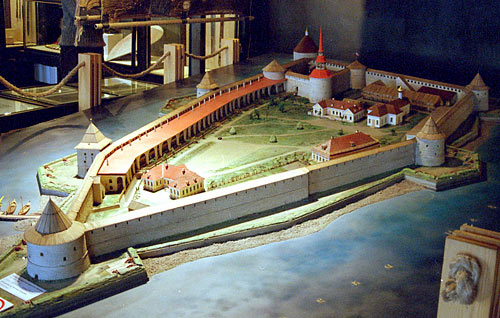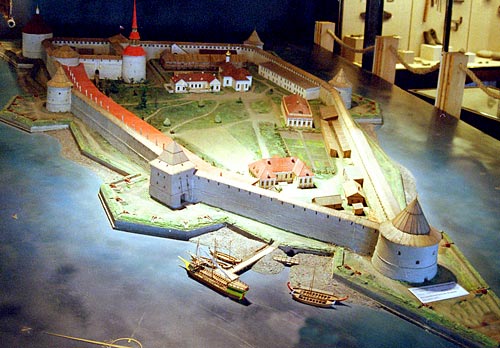 This remarkable model is in the Governor house of the Peter and Paul Fortress of Saint Petersburg and could be seen for reasonable fee.